Davies has been monitoring NPS and Customer effort via email surveys for the past 6 years across a basket of around 20 GI brands. We gather transactional feedback from customers (i.e. feedback soon after the customer has had an interaction with the company) at the primary touchpoints of new business, mid-term adjustment, claims and renewal. Our clients have used these data to inform and drive their operations and customer experience strategies and actions. 
In March of this year, the insurance sector, like most customer-facing service businesses across the UK had to shift their workforce from office to home. We were intrigued as to how this would affect customer service standards and were able to measure the impact given that lockdown almost coincided with our Q2 data from transactional surveys. 
Across our basket of GI brands, we saw Q2 improvements in NPS at new business, MTA and renewal, while claims scores held steady. At all touchpoints, NPS was higher in Q2 20 than it had been in Q2 19. And a similar pattern was seen in Customer Effort. 
From examining patterns in data and customer verbatims we concluded that customer service levels improved because of a 'lockdown leeway': 
We saw reduced demand in 'home-based' contact centres as some companies suspended new business activity and the number of motor claims reduced.

 

During the lockdown, customer expectation was lowered. With most customers expecting no or slow response times they were pleasantly surprised to find service levels at near normal and this is reflected in the improved KPIs in Q2.

 

Customers were also better able to empathise with the situation that the insurance sector found itself in. Customers had their own work experience of dealing with Covid so were more understanding and tolerant.

 
However, the question was would such understanding continue beyond Q2? And the evidence seems to suggest not. 
In Q3 2020 we have seen NPS levels dip back to those seen before lockdown (and, in the case of MTA, even lower)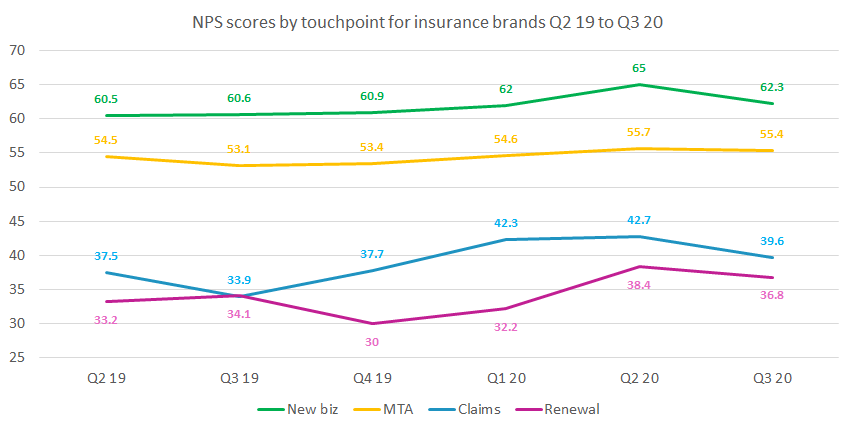 Effort scores have also fallen back to pre-lockdown levels (and lower for MTA) – suggesting that customers are no longer allowing for the situation we all find ourselves in.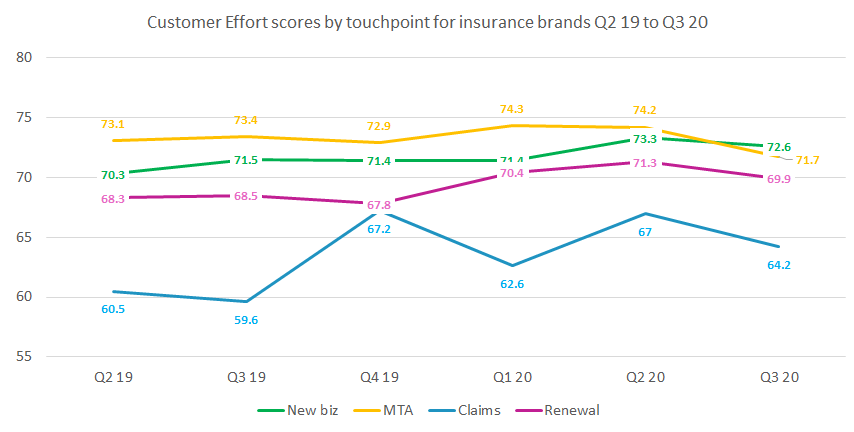 The general public has become weary of the Covid environment and are wanting business to return to normal. Their expectations, in terms of service standards and much else, has returned to pre-lockdown levels and companies are no longer given leeway because of lockdown. 
Here's what one customer had to say…. 
"I appreciate that we are in the middle of coronavirus but in our own business, we have had no choice other than to adapt and carry on. We expect our service providers to do the same." 
So, while we must give credit to the insurance sector for responding swiftly and effectively to the virus, the industry cannot afford to stand still. There is clear evidence that customers are less forgiving as Coronavirus limitations drag on. Levels of sympathy and understanding from customers are starting to wane and this is impacting perceptions of service. 
Companies also have to get to grips with the issue of managing their employees effectively as they operate from remote locations. A recent survey by the Chartered Institute of Personnel and Development (CIPD) highlighted the benefits and disadvantages of home working. For most employers the survey finds that remote working has been a positive experience – citing people's improved work-life balance (cited by 61% of employers), enhanced employee collaboration (43%) and improved focus (38%). 
However the CIPD report also warns of the downsides, the biggest challenges being – reduced well-being among staff (47%), reduced staff interaction (36%) and the effectiveness of line management of home-based workers (33%). 
As home-working becomes a more permanent feature of business life and customers' service expectations return to pre-Covid levels companies need to put in place: 
Appropriate technology and conditions for staff who have to work from home

 

Options for flexible working which combine the benefits of the home and office environment

 

Channels of communication that allow managers to check on the mental wellbeing of their teams and deliver effective support.

 
The ride will not be easy.