For the last 14 years Davies has been recording transactional NPS and Effort scores for a range of insurance company brands through our comprehensive Voice of the Customer programmes. We compare these KPIs on a quarterly basis, looking at the high, mean and low scores. Most of our clients appreciate this data view as it allows them to compare their efforts to improve process and performance against a basket of other brands. The latest quarterly data (from Q1 2021) has highlighted an interesting trend. 
Customer satisfaction at renewal and claims have always lagged CSAT at new business and MTA. And, although we've seen significant improvements in both since 2016 (as we highlighted in our earlier article), they continue to be the touchpoints at which the customer/company relationship is most at risk. 
However, in Q1 21 we've seen an interesting development. While NPS scores across the industry have remained static for new business, MTA and claims we've seen a seven-point uptick in NPS at renewal across motor and home insurance combined. 
Effort scores at renewal have also shown an increase, though not as marked as for NPS. Renewal effort score across the industry has moved from 70.4 (% scoring 5) in Q1 20 to 72.4 in Q1 21. 
Effort scores on claims have also improved.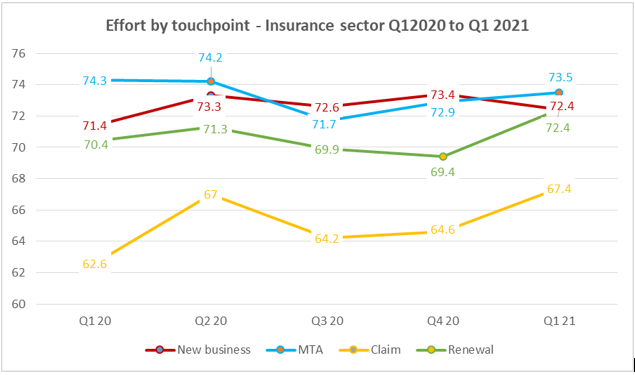 Our view (supported by the analysis we do of customer comments from feedback on the renewal process) is that the improvement in NPS at renewal is less to do with process improvements (effort is relatively flat and there are no similar improvements for NPS in other touchpoints) but is more to do with a market shift in renewal premiums. According to the latest Confused.com Car Insurance Price Index report, comprehensive car insurance premiums have fallen by 14% since the start of the Covid-19 pandemic and fell a further 7% in Q1 2021. 
It's likely that this welcome release from the grim cycle of renewal premium hikes is responsible for customers feeling more positive about their insurance company – a clear message for the industry as a whole as they seek to reinvent their traditional business models. 
If you'd like to know more about our quarterly KPI comparisons please get in touch.